Buy
Real estate agency in Herault, France : Balaruc, Bouzigues, Frontignan, Loupian, Meze, Poussan, Sete
Prix : 168 400 €
ALIGNAN DU VENT - BEAUTIFUL APARTMENT IN HISTORIC PROPERTY
Reference : NL15048
Place : Pézenas and region
Type : Appartement
Surface : 55 m²
Number of room : 1 room
ALIGNAN WIND: A 20 km of BEZIERS & AGDE, near PEZENAS, located in a beautiful historic property, a former priory, group of buildings divided into 12 apartments.
CHAPTER, apartment on the ground floor of 55 m², T2, with private garden.
The set is in perfect condition and fully furnished.
Rental management opportunity in the property.
The condominium has 2 beautiful pools, a parking lot, a park.
The holiday "rational" price - Beautiful together!
Consult us for other apartments ranging from T2 and T4 duplex € 163,000 to € 336,850.
Christine MERCIER
This property is
offered by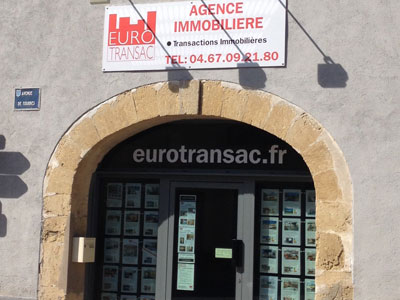 EUROTRANSAC
3, avenue de Pézenas
34120 Nézignan L'Évêque
Fax : 04 67 77 48 80

Phone : 04 67 09 21 80