Buy
Real estate agency in Herault, France : Balaruc, Bouzigues, Frontignan, Loupian, Meze, Poussan, Sete
Prix : 220 000 €
SOUS COMPROMIS -Florensac, winemaker R + 1 with large garage of 133 m².
Reference : NL21068
Place : Pézenas and region
Type : House
Surface : 115 m²
Number of room : 2 rooms
Close to the city center, this property on 2 levels consists on the ground floor of 1 large garage crossing offering 2 parking spaces and 1 beautiful storage space.
On the 1st level: 1 fitted and equipped kitchen open to the living room and the living room (with fireplace), opening onto a pretty terrace, 1 office, 2 beautiful bedrooms with fitted wardrobes, 1 SDE with toilet, plus 1 Attic convertible into a studio (with a realized room currently used as a laundry room).
Ideal for family or craftsman!
This property is
offered by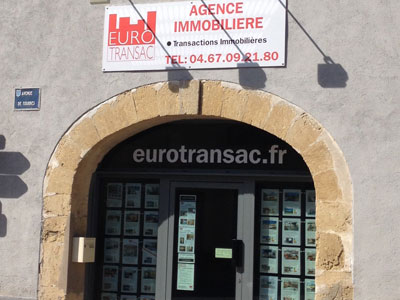 EUROTRANSAC
3, avenue de Pézenas
34120 Nézignan L'Évêque
Fax : 04 67 77 48 80

Phone : 04 67 09 21 80